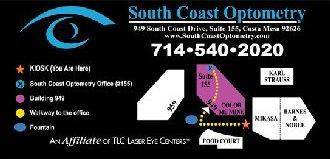 At South Coast Optometry, you'll find more than just LASIK consultants and co-managing care. Our main concern is for you, our patient. That's why we'll help determine whether LASIK is the right decision for you.
There are many other refractive procedures that may be more advantageous or beneficial to you, whether it is Custom Wavefront Guided LASIK, Intralasik, CK, Intacs, Epi-LASIK, PRK, or Crystalens, our Orange County optometrists will discuss these other options with you. What's more, we'll recommend a center from a qualified list of over 5 state-of-the-art LASIK centers.
As experts of pre- and postoperative care, we'll always keep in mind which center is best for your type of vision. With our affiliated centers, we provide a pre-operative evaluation and the post-operative 1-day, 1-week, 1-month, 3-month, 6-month and 9-month care for you to insure, monitor, and "police" your care from beginning to end.
If you have definitely decided to have LASIK, it is even better news to know that we do not collect a fee from you for these services during this first year of monitoring and pampering of your eyes. We are reimbursed for our time and services from the affiliated centers. You pay the surgeon, and the surgeon pays us. Having been in the eye care industry for over 20 years provides you with unmatched experience and knowledge as to who has done the best surgeries for your particular eye condition.
You'll also receive an unbiased opinion from a professional that thoroughly explains every aspect of the procedure and your options, so you become well-educated. It is entirely possible that LASIK may not be the best procedure for you. No question is too small and no concern is insignificant. Together, we'll help make the best educated choice for you.
If you are considering LASIK or any other important eye procedure, please allow our optometrists in Orange County to help you achieve the best possible results by taking the important first step of making an eye examination appointment with us. Your eye exam in our Costa Mesa practice will provide valuable information that will allow us to educate you about all the possible options with your eyes!
We're conveniently located to serve you. Our office in Orange County is easily accessible if you're in Newport Beach, Newport Coast, Costa Mesa, Corona Del Mar, and Irvine, California.